ABOUT ASER Centre
ASER Centre was established in 2008 as an autonomous assessment, survey, evaluation and research unit within the Pratham network. Read more.
----------
----------
ASSESSMENT to ACTION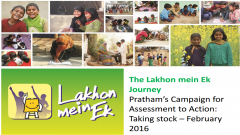 Click to learn all about Pratham's Lakhon mein Ek campaign
----------
CITIZEN-LED ASSESSMENTS
Report: How much do citizen-led assessments cost?
Does #blacklivesmatter matter? Does citizen monitoring make change?, by David Sasaki, Hewlett Foundation
ASER SPOTLIGHT
Access Brooking Institution's latest report, 'Millions Learning: Scaling Up Quality Education in Developing Countries' and executive summary.
----------
How to give it: Why charity should begin in the science lab, by Caroline Fiennes
----------
Pratham, ASER, PAL Network at CIES, Vancouver
----------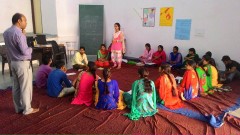 Partnership with 100 DIET colleges to build capacity of future teachers
----------