ASER 2014 in the field!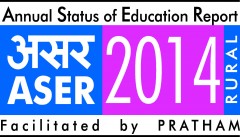 ASER 2014, the tenth Annual Status of Education Report, is in the field. View tracking map
----------
The 100-day Blog
As people travel around the country for ASER 2014, they share their thoughts and experiences. Read the Day 93 post by Avinash Mohanraj.
About ASER Centre
ASER Centre was established in 2008 as an autonomous assessment, survey, evaluation and research unit within the Pratham network. Read more.