ASER 2014 in the field!
ASER 2014, the tenth Annual Status of Education Report, is in the field. ASER 2014 began with the National Workshop in early August. The field survey is now in progress in most states, with only Odisha and Kerala yet to begin. View tracking map
----------
The 100-day Blog
As people travel around the country for ASER 2014, they share their thoughts and experiences. In the Day 24 post, Arushi Sharma recounts how she and others from the ASER team were stranded in Srinagar for four days during the recent floods - and rescued themselves by building a boat.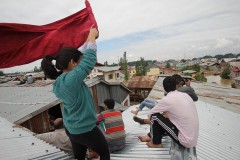 Day 24: How we survived the J&K floods
About ASER Centre
ASER Centre was established in 2008 as an autonomous assessment, survey, evaluation and research unit within the Pratham network. Read more.