ASER 2014 in the field!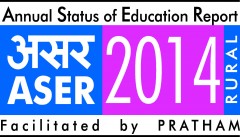 ASER 2014, the tenth Annual Status of Education Report, is in the field. View tracking map
----------
The 100-day Blog
It is just over 100 days since the blog began, and fieldwork for ASER 2014 is 99% complete. ASER Centre director Rukmini Banerji wraps up the 100 day blog with a post that was partly written ten years ago, during ASER 2005. Read it here
About ASER Centre
ASER Centre was established in 2008 as an autonomous assessment, survey, evaluation and research unit within the Pratham network. Read more.