----------
Ab Gunwatta par zor ho
Across the board, there is a consensus that while many quantitative targets have been met, there is a lot that needs to be done to improve the quality of school education in India. However, there are a variety of viewpoints as to how this improvement is to be brought about. In the efforts to fill the gaps in the country's education system, a lot of initiatives start simultaneously thereby resulting in confusion in implementation, dilution of effort and eventually weak outcomes. Acknowledging the different perspectives and bringing about a balance among them is critical to initiate positive changes in school education, writes Dr. Rukmini Banerji in her piece in India Today (Aaj Tak). Read the full piece here.
----------
----------
Analyzing and Utilizing Assessment Data for Better Learning Outcomes
----------
Countries across the globe are reaching to learning assessments as a way of improving educational outcomes. Large-scale data on learning outcomes is increasingly available in the Asia-Pacific region, whether through participation in national, regional, or international assessments. However, the use of this data for evidence-based policy making remains limited. One of the primary reasons for this is insufficient institutional capacity of countries to analyze such data and utilize the results for evidence-based policies. In order to address this challenge, UNESCO Bangkok launched a regional programme called "Learning Enablers for Asia and the Pacific" (LEAP), under the platform of NEQMAP. The outcome of this regional programme is this synthesis report, combining information from a regional mapping survey on learning assessments as well as 10 case studies that analyzed national, regional, or international assessment data with the aim to identify what conditions may significantly impact learning outcomes. Read the full report here.
----------
----------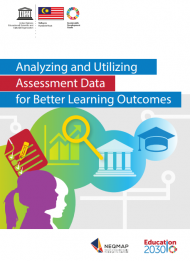 ----------
Does schooling automatically mean learning?
Diwakar Kishore refers to Dr. Rukmini Banerji's piece in the Stanford Social Innovation Review, to talk about how ASER has challenged the idea that being in school guarantees an education.There has been a long-standing assumption of a direct correlation between years of schooling and the amount of learning. Consequently, there has been too much focus on ensuring children's physical presence in schools, rather than ensuring these children receive a quality education. This issue has been brought to the fore by ASER, working towards the goal of "learning" rather than just a focus on enrollment, he writes. The full article can be read here.
----------
----------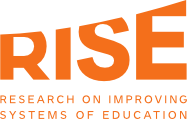 ----------
Participatory Action Research and Educational Development
This volume brings together diverse practitioners on Participatory Action Research (PAR) and educational development in South Asia. Contributors draw from their research and field experiences on how PAR is currently being understood, theorized, debated, and implemented for education of children in South Asia. Chapter 3 titled, The ASER 'Translating Policy into Practice' Toolkit: From Participatory Action Research to Evidence-Based Action has been written by Dr Suman Bhattacharjea of ASER Centre with Erik Jon Byker of the University of North Caroline-Charlotte. Chapter 6 titled, 'Learning and Evolving in Hybrid Learning: A PAR Perspective' is by Dr Rajarshri Singh and Ketan Verma, ASER Centre. The book can be purchased here.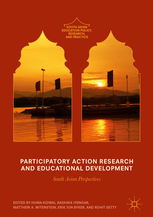 ----------
"How can localized assessments enhance our understanding of learning at the bottom of the pyramid? By Shaher Banu Vagh & Dropti Sharma
Shaher Banu and Dropti Sharma presented their paper titled, 'How can localized assessments enhance our understanding of learning at the bottom of the pyramid? Insights from Pratham's collaborative, longitudinal action research program' at University of Pennsylvania on March 2, 2017. The abstract is available below:
Abstract: Assessments have the potential to not only provide information about the status of learning but also help guide teaching-learning processes and set goals. In fact, well-designed assessments can help underscore the importance of domain-specific sub-skills. To be well-designed, assessments of literacy acquisition need to be sensitive to local and contextual needs by accounting for the orthography-specific characteristics of the language of instruction, program or curriculum requirements and backgrounds of children for whom they are designed. But all of this can be effectively galvanized only after considerations of common operational constraints such as contextual capabilities, testing time demands and ability to generate timely feedback for formative or summative purposes. An additional important consideration in all of this is the 'purpose' of assessment, essentially the intended inference and use of test scores. This paper highlights some of the strengths and challenges of localized assessments as implemented in an ongoing collaborative, longitudinal action research program in Allahabad, Uttar Pradesh and discusses some specific cases in how they have enhanced the teaching-learning processes.
The full paper is currently under revision.
----------
----------
----------
Language and learning: The challenges of primary education in India
----------
A chapter by Dr Rukmini Banerji, in the book, Multilingualisms and Development,published from the proceedings of the 11th Language & Development Conference held in New Delhi. The book focuses on the theme of multilingualism through aspects such as mother-tongue-based multilingual education. This chapter in particular, explores this through various scenarios across Indian states,with examples on how Pratham intervened. Read Dr Banerji's piece hereThe entire book can be found here.
----------
----------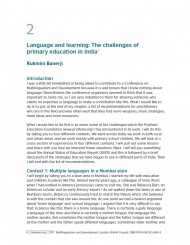 ----------
----------
The Impact of Maternal Literacy and Participation Programs: Evidence from a Randomized Evaluation in India
In this paper, Dr Rukmini Banerji along with James Berry and Marc Shotland evaluates the impact of three variants of adult literacy programs, each targeting mothers in rural India: an adult literacy program,a participation program,and a combination of the two. Access the paper here.
----------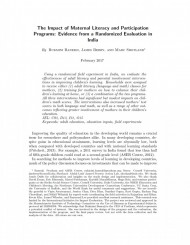 ----------
Improving literacy and math instruction at scale in India's primary schools: The case of Pratham's Read India program
Pratham's Read India initiative is a large scale intervention to improve basic reading and arithmetic among children in primary school. It was started over ten years ago and has evolved considerably over time. Rukmini Banerji and Madhav Chavan examine this decade long journey of efforts to change teaching and learning at the ground level as well as efforts to bring about significant shifts in priority at the system level. The "Read India" case presented here contributes knowledge on strategies under which effective pedagogy can be brought to scale. It also discusses challenges of transforming instructional change in a context of low initial capacity at the school and system levels, where attention to rapid expansion of access to school had kept aside for a long time critical questions about teaching quality and learning outcomes.
Access the article here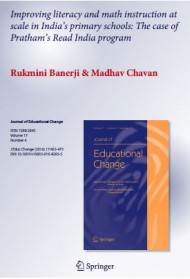 ----------
Second Chance Programs in South Asia
Written by Pratham CEO Rukmini Banerji, this paper was commissioned by the Education for All Global Monitoring Report as background information to assist in drafting their 2015 report. The paper reviews the policy frameworks and challenges relevant to provision of second chance programs to youth in South Asia. The paper also presents some case studies of Second Chance programs in the region and identifies key challenges for the post 2015 agenda. Access the report here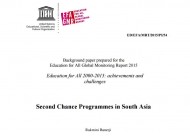 ----------
Teachers and Teacher Performance in Bihar: Implications for Teacher Education
Directorate of Research and Training, Government of Bihar, Patna and State Council of Educational Research and Training, Bihar, Patna in partnership with ASER Centre and Pratham conducted a study titled, 'Enhancing Teacher Effectiveness in Bihar Operation' aimed at improving teacher capacity for better classrooms in the schools of Bihar. Access the report here
----------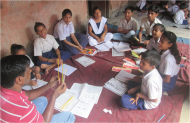 Mobilising Community for Better Teaching & Learning Outcomes : Field Experiments in Rural Schools
'Claiming India from Below', edited by Vipul Mudgal, brings participation and communication in governance and policymaking to the centre stage; examines case studies of state and citizen engagement from across India; and presents perspectives of practitioners, activists and scholars to provide a comprehensive view of the debates surrounding the idea of Indian democracy. Rukmini Banerji, in her chapter titled, ' Mobilising Community for Better Teaching and Learning Outcomes' explains why it is important to challenge our assumption of 'schooling must lead to learning'. She highlights the ASER survey as a case study to showcase how citizen-led efforts can help improve children's learning, and how that can lead to action.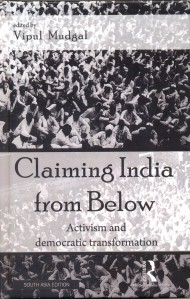 ----------
How Do Systems Respond to Disruptive Pedagogic Innovations? The Case of Pratham in Bihar
As enrollment levels have risen in developing countries, new challenges have surfaced in elementary education. Data and experience from the field strongly suggests that children are not learning. On the one hand, more and more children are coming into school and staying longer. On the other hand, what they are learning in school is woefully inadequate. This paper tracks the recent journey of an effort aimed at raising basic learning outcomes of children in Bihar.
----------
Improving Student's Learning with Correct Feedback: A Model Proposed for Classroom Utility
In the International Journal of Education and Psychological Research (IJEPR) (Volume 3, Issue 4, December 2014), Dr Aditi Banerjee writes to build perspective within the education system on the effect of feedback on student's learning.
----------
The Challenges of Implementing Assessment to Improve Learning - the Latest Report from the Learning Metrics Task Force
----------
With children's learning outcomes taking centre stage, countries and citizens will have to go back to the drawing board to think about what, how, and who to measure; and how these measurements will lead to improvements in learning. In a blog post for NORRAG NEWSBite, Dr Rukmini Banerji reflects on the challenges involved.
----------
----------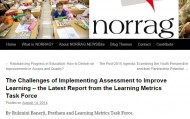 ----------
From Invisible to Visible...Being Able to 'See' the Crisis in Learning
----------
"How can such a huge gap remain invisible? Given the realities on the ground, what, then, can be the most useful and visible form of assessment that can help people in understanding and facing whether children are learning? How can the assessment lead to the next level of action for improving the situation?". Dr Rukmini Banerji answers these questions in her post on the Brookings Institution blog.
----------
----------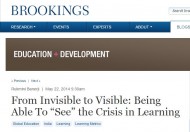 ----------
----------
----------
Thinking Differently About Access : Learning Curve
----------
An article by Dr Suman Bhattacharjea in Issue XXI of Learning Curve, a publication of Azim Premji University. This issue focuses on the theme of empowerment through responsible citizenry by involving the community in the process, of methods used to facilitate collaborative learning by getting students and teachers to jointly examine their problems and concerns, of attitudinal changes enabled through dialogue. Read Dr Bhattacharjea's piece here. The entire issue can be found here.
----------
----------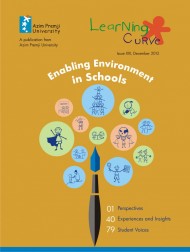 ----------
Toward Universal Learning: What Every Children Should Learn
----------
UNESCO, through its Institute for Statistics (UIS) and the Center for Universal Education (CUE) at Brookings Institution, have co-convened the Learning Metrics Task Force (LMTF), with Rukmini Banerji as co-chair.
----------
With the objective of shifting the focus of global education debates from access to 'access + learning', the task force makes recommendations to help countries and international organisations measure and improve learning outcomes for children and youth worldwide.
----------
The final Phase I recommendations are presented in its first report titled, Toward Universal Learning: What Every Child Should Learn, which presents a framework for what every child should learn and be able to do by the time they reach post-primary age. Read the report here.
----------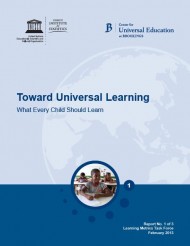 ----------
----------
Centre For Education Innovations
ASER Centre, New Delhi finds a mention on the Center For Education Innovations forum. The write-up explains our mission, methodology and programmes over the last eight years. Click here to read more.
----------