11 November 2017
Beyond Basics in Haryana
By Claudia Carbajal
After years of work, ASER Beyond Basics is now live. The tools are finalized, the partnerships settled, and the survey booklets printed. The ASER Centre office in Delhi is nearly empty. The central and the state teams have been deployed to train volunteers, monitor the survey, and perform the data control activities necessary to ensure quality implementation in 29 districts across India.
ASER is fascinating because, among other features, it is a citizen-led survey. The survey is designed in the central office but data collection is done by volunteers managed and monitored by the ASER central and state teams. These volunteers gain first-hand exposure to the reality faced by diverse populations and gain practical experience in the field. For the central team, volunteers are an essentially ally. The scale of ASER would not be possible without their participation.
Successful implementation and enumerator management requires an outstanding planning and training process. Members of the central and state teams were trained to be the critical link between the Assessment Unit in ASER and the volunteers. Due to the complexity of the survey and the procedures, the preparations were thorough. Manuals were developed and training tools designed.
ASER team members working as trainers then spent hours with the volunteers both in classrooms and in the field to master the content and ensure a quality survey process. Trainers are in charge of conveying technical knowledge, training on correct procedures, and conveying the motivation and importance behind ASER's work.
I was part of Haryana's implementation of Beyond Basics. The partner university for the first stage was Jindal Global University. Due to academic calendar constraints, the training was packed into a few intense sessions. We covered procedures, practices in the field, and tried to motivate the volunteers to also take a personal interest in the quality of their work. Since the target age group for the survey is 14-18, and personal questions are asked, an important aspect of the training was to emphasize building trust and being sensitive.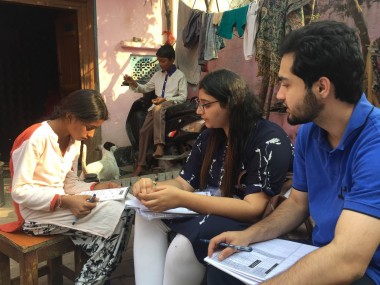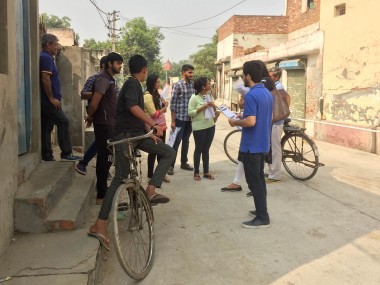 On the first weekend of November, early in the morning, the volunteers and monitors were distributed across the selected district in Haryana and spent the full day visiting households and interacting with the local community.It was impressive to see the results that a detailed training plan and motivated trainers can achieve in only a few days. With the help of ASER trainers, the volunteers could follow the procedures as they were taught. Mapping, sampling, and surveying processes were followed with precision. Volunteers reached a balance between collecting quality data and interacting sensitively with the youth.
At the same time that my group was on the ground in Haryana, many other groups in many other states were doing the same. Similar efforts are being followed in 28 other locations. Different monitors, different volunteers, different villages, but the same objective: collect quality data on India's next adults.
India has around a crore of youth between the ages of 14 and 18. However, information on their abilities, aspirations, awareness and activities are limited. Beyond Basics, through its volunteers and ASER team members, is building a more complete understanding of this massive segment of the population. With a more complete understanding of this population, we can build smarter policies grounded in quantifiable realities and better enable future generations to reach their full potential.
----------
6 November 2017
Glimpses of ASER 2017 in the northeast
By Suman Bhattacharjea
----------
----------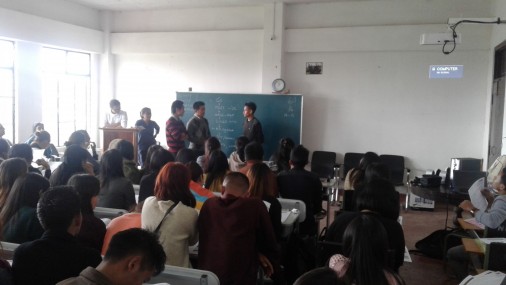 Nagaland University volunteers in a training session
In a crowded classroom in Kohima, Nagaland, close to 70 young people are listening intently as ASER Centre trainers walk them through the 2017 'Beyond Basics' procedures. About 20 are PhD scholars and the rest are Masters level students in the Department of Education, Nagaland University. Since the training is in English, I'm able to follow and even contribute to this 4-day training workshop.
A few days later and less than 200km away, another group of about 60 young people pack into a different classroom in Bishnupur, Manipur. They are B.A. students at Chanambam Ibomcha college - C.I. College for short – about a 45 minute drive from Imphal. This time the training is mostly in Manipuri, but although I don't understand the content, I can see that the students are paying close attention.
Because the ASER 2017 'Beyond Basics' survey is being done in just 29 rural districts, this year we have far fewer partner organizations than the usual 500+. All of them are colleges and universities. But the 'colleges and universities' label hides enormous diversity. They include large central universities and small district colleges, government teacher training institutions and well known private universities – all very different from each other with respect to infrastructure, resources, and student characteristics.
Both Nagaland University and C.I. College are brand new ASER partners, and their level of interest and engagement has been truly exceptional. In Nagaland, the inaugural session of the training workshop was attended by the University's Pro Vice Chancellor, Prof Ramesh Gupta; by the Head of Department of Education, Prof Lungsang Zeliang; as well as by several other faculty members (see a writeup in the Nagaland press here). And while the students were working hard to master the ASER Beyond Basics process during the workshop, their teachers were equally busy figuring out logistics, helping to get permissions from the Village Chairperson of sampled villages, and generally making sure that the training and survey process went off smoothly.
In Manipur, the driving force behind this new partnership is Dr Khangjrakpam Ibohanbi Singh, Head of the Department of Education at C.I. College. On the dashboard of his car, Dr Singh has a photo of himself receiving the National Teacher Award in 2007 from India's then President Pratibha Patil. It is easy to see how he earned this recognition. His interest in and dedication to ensuring learning opportunities for his students is truly amazing. Dr Singh accompanied every step of this outstandingly organized training workshop, including participating in both field pilots, and willingly took care of every request from our training team. In a college which has a faculty of just two people to teach the entire B.A. curriculum, this is not an easy task.
Not surprisingly, the enthusiasm of these faculty members is reflected in their students. In both institutions, teachers stressed the importance of getting firsthand field experience and of contributing to an important national effort. In both classrooms, the students responded with interest and energy. In Nagaland, they gave up their Sports Week activities to tramp around Kohima village finding students to practice testing on. In Manipur, they showed up for training at 8 am on a Sunday morning – many of them having walked several kilometers to college, as they do every day. Far from the metro cities and the name-brand institutions, it is these young people – not very much older than the youth they are testing – whom we urgently need to invest in.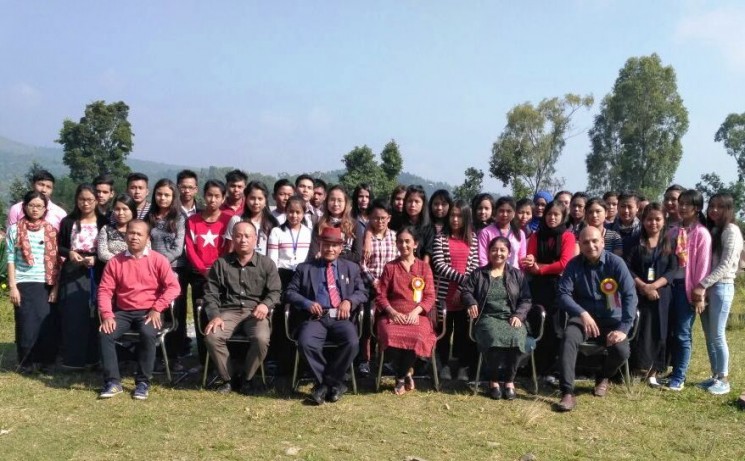 Dr Khangjrakpam Ibohanbi Singh, Head of the Department of Education at C.I. College (seated, with tie and hat), with ASER trainers and volunteers