----------
----------
ASER 2014: RECAP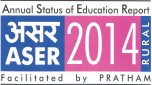 ----------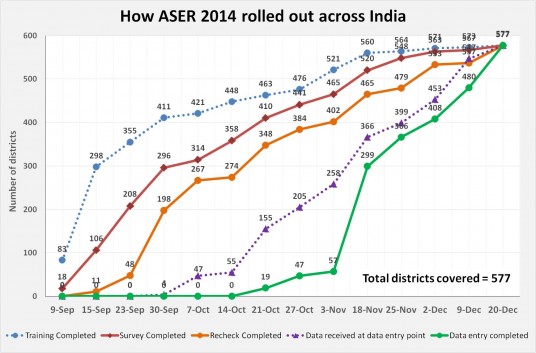 The Tenth Annual Status of Education Report - ASER 2014
ASER 2014, the tenth Annual Status of Education Report, was flagged off with a six-day National workshop in Aurangabad, Maharashtra from August 1 to 6, 2014. Well over a hundred people comprising ASER teams from Delhi and all 28 states as well as special guests came together to kick start this enormous citizen-led survey through classroom sessions, field visits, and mock trainings on the survey process. .
To mark the ten-year milestone, the National Workshop included an "Innovation Mela" in which state teams showcased some of the many great ideas that they have thought of and implemented in the past in order to improve survey management and planning. The best innovations were selected based on four main parameters: usefulness, scalability, cost effectiveness, and ease of implementation. The Mela worked as a platform for every participating member to learn more about effective management of large-scale surveys; all state teams were encouraged to adopt the winning ideas.
The National Workshop was followed by state-level workshops in every state and district-level workshops in 577 rural districts in the country where volunteers from partner organizations were trained to conduct the survey. Following the district-level workshops, the survey was conducted in 30 randomly selected villages in each of the 577 districts. About 250 District Institutes of Education and Training partnered with us to conduct ASER 2014. The survey took about 100 days to complete with field work coming to a close on December 20, 2014.
----------
The ASER team continues to work tirelessly towards the National report release on January 13, 2015 in New Delhi.
Read our stories from the field here. Stay tuned as we continue to bring you updates on the 10th year of ASER!
----------
Well wishers send their best for the team behind ASER 2014. Click here to read the messages.
----------
Help Support the ASER effort
Donate now to support ASER 2014 (scroll down to the bottom of the page and click on 'Help Support the ASER Survey'). Support ASER in a village or a district : INR | GBP | USD